Our Christmas bags will become a treasured part of your family's holiday traditions. Our bags are made from a variety of fabrics, using the serger stich with coordinating ribbons and hand blanket stitching.
Each set of bags costs $75 and includes six bags in four sizes: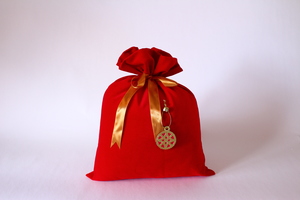 These photos are a small sample of the fabrics we carry at Four Seasons Giftbag Company. We have hundreds of coordinating Christmas bag sets and we come out with new combinations every season. Stay tuned to our website to see our new collections and combinations!
Reusable birch bark gift tags are available for purchase to add a personalized touch to each bag.